Prayer on guru Sankaracharya in a meditative posture.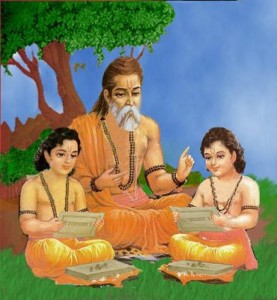 Padmaaseenam prashantam yamaniratamaanan gaari tulya prabhaavam,
Phaale bhasmaankitaam bhasmita rujira mukhaam bhojanindeevaraaksham;
Kambugreevam karaabhyaam avidtamurulasat pustakam jnaanamudraam,
Vandyam geervaana mukhyair natajana varadam bhaavaye shankaraaryam.
MEANING: I meditate on Sri Shankaracharya who is seated in the lotus posture with
Jnanamudra, who is calm, endowed with virtues like Yama, Niyama, etc., whose glory is as great as
that of Lord Shiva, who wears the sacred ashes on the forehead, whose face resembles the
blossomed lotus, with lotus-like eyes, possessing sacred books in hand, who is ever adored by
people of high learning and wisdom, and who fulfils the desires of his devotees.