Deepawali or Diwali is a festival of lights (Diwas), which is one of the widely celebrated Hindu festivals in India and other south Asian countries. Deepawali means series of lights. Apart from Hindus, this festival also will be celebrated by Jain, Sikhs and Buddhists. Diwali will be celebrated as the day of extermination of evil spirits. Deepawali term originated from the Sanskrit word "Deepam", which means light or lamp.
Deepam (diwa or jyothi) signifies knowledge and wisdom, which removes the darkness called ignorance in us. Instead of electric lamps, usage of oil lamps has more significance and importance in spiritual science. According to Hindu mythology, it is very common to use earthen diwas. Earthen diwa signifies our respect towards the god, and oil/ghee and wick used in diwa symbolizes our desires and pride. Lighting diwa in front of god signifies the termination of the hidden desires and pride existing in our mind.
Diwali Celebration:
According to Hindu Vedic scriptures, Diwali will be celebrated on the day of Amavasya (New Moon day) that comes in Ashwyuja month (spring season). Diwali festival includes a total of five day celebration. Two days before the new moon day, Diwali celebrations will start.
Day 1 – Thrayodasi (13th day (thidhi) of the waning phase of moon)
This day is typically known as Dhana Thrayodasi (Dhanteras) in India and Nepal. According to Hindu mythology, Goddess Lakshmi and Dhanwantari (God of Health and Healing) had born on this day from the ocean of milk during its churning by Suras (Goddesses) and Asuras (Demons).
In Hindu communities, it is a common practice to worship Goddess Lakshmi on this day. People consider the purchase of new vehicles, gold, silver, and other household items on this day as auspicious.
Day 2 – Chaturdasi (14th day of the waning phase of moon)
This day is known as Naraka Chaturdashi According the Bhagavatha puranam, Lord Sri Krishna along with his wife Satya Bhama killed the evil king Narakasura. Devotees will wake up early in the morning on this day and will have a sacred bath. Devotees clean and decorate their houses to celebrate Diwali.
Day 3 – Amavasya (New Moon Day)
This day is known as Diwali. Devotees will worship Goddess Lakshmi Devi, Lord Ganesha, Goddess Saraswathi Devi and Kubera Swamy on this day. In evening, Diwas will be lit in house and performs Lakshmi puja. The darkness on new moon day will be illuminated sacred diwas. Then people stars bursting firecrackers. Nepali's, Guajarati's and Marvadi's consider this day as the start of a new year. Merchants from these respective reigns will start a new budget year.
Day 4 – Padyami (1st day of the waxing phase of moon)
This Karthika Suddha Padyami is known as Bali Padyami. According to Bhagavatha puranam, on this day Lord Sri Maha Vishnu in the avatar of Vamana (a dwarf Brahmin) undermined the noble demon king Bali to netherland and blessed him with immortality. Hence the day is named after him as "Bali Padyami".
There was another reference in Hindu mythology. Lord Srikrishna lifted the mountain Govardhana to save his people and cattle from king Indra, who troubled them with heavy rains.
Day 5 – Vidiya (2nd day of the waxing phase of moon)
This day is known as Bhagini Hastha Bhojanam (Bhai Dooj). This is day dedicated for brother and sisters. On this day, brothers will have the food cooked by their sisters and blesses them for lifelong happiness. Brothers will gift several presents to their loving sisters.
Story Behind the Celebration of Diwali:
In Hindu Mythological scriptures, there are different stories and reasons behind the celebration this festival. Some of them are listed below:
Ramayan – Return of Rama to the Ayodhya Kingdom after Exile
In Ramayan, we all know that King Rama went to forest along with dear wife Sita and brother Lakshmana, and lived there for 14 years on the order of his father Dasaratha, the king of Ayodhya. After suffering many difficulties during his exile, Rama returned to his kingdom Ayodhya after 14 years, and enthroned.
People of Ayodhya's kingdom grandly celebrated the return of Rama as Diwali. They had started to celebrate this auspicious ceremony every year by lighting diwas, decorating the entire kingdom and bursting firecrackers.
Mahabharatha – Return of the Pandavas to the kingdom Hasthina after Exile
Mahabharatha, respected as fifth Veda in Hindu mythology. This great epic also has a reference of Diwali celebrations. Pandavas went to exile for 13 years after getting defeated by Kauravas in the dice game. It is said that they have returned to the kingdom on the day of Karthika Amavasya after 13 years. Hence, the overjoyed people of Hasthina kingdom celebrated their return as Diwali.
Bhagavtha Puranam – Destruction of the Demon King Narakasura
The reference in Bhagavatha purana is widely believed story to celebrate Diwali. Narakasura was a very cruel demon king who used to rule the kingdom Pragjyotisha. Naraka with his brought all the kingdoms on earth under his power, and used to torture the humans. Then he eyed on heaven and battled against the king of heaven, Indra. Naraka defeated Indra and started ruling both heaven and the Earth.
Drunk with this overpower, Naraka stolen the sacred ear rings of Aditi, mother of Devas. He also captured several saints and 16,000 women, who were the daughters of Gods. All the Gods then went to Lord Sri Maha Vishnu to save them. Aditi who was a relative of Satya Bhama, wife of Lord Sri Krishna, went to Satya Bhama and requested her Naraka's destruction. Sri Krishna along with Satya Bhama declared a war against him. During this battle, Satya Bhama killed Narakasura, released the imprisoned women and saints, and returned the ear rings of Aditi to her.
The destruction of Naraka was happened on Chaturdashi, which is known as Naraka Charturdasi. The next day, Karthika Amavasya, is celebrated as Diwali. People celebrated his death by lighting diwas resembling the removal of darkness created by Naraka.
Crowning of the King Vikramaditya
King Vikramaditya is a great Hindu king from India, and is renowned for his kindness, wisdom and bravery. Hindu scriptures referred that the king has enthroned on this day, and people used to celebrate this grand event annually by lighting Diwas and bursting firecrackers.
Maha Kali Puja (Shyama Puja or Mahanisha Puja)
In East India, this day is widely celebrated as Maha Kali Puja. Once upon a time, demons (Asuras) defeated Gods (Devas) in a battle and conquered the heaven. To save the heaven and the Earth from cruel demons, Goddess Kali had incarnated from the forehead of Goddess Durga. She performed a great battle against demons, and killed all of them.
After killing all the demons, she did not regain the consciousness and lost her control. Outrageous Kali started killing the people whoever she had seen. Then Lord Shiva stopped and convinced her. Humans started celebrating this day as Kali Puja ever since. Kali Puja made highly popular during the ruling of Bengal by Raja Krishna Chandra in 18th century.
Jains – Enlightenment (attainment of Nirvana) of Vardhamana Mahavira
Jains celebrate Diwali to celebrate the occasion of enlightenment of the last Tirthankara of Jains, Vardhamana Mahavira. On the same day, Gouthama Gandhara Swamy, the main disciple of Vardhamana Mahavira, also attained the preliminary stage of enlightenment.
They celebrate this day as the day of release of human spirit from desires and selfishness. In Jain temples, Jains offer "Nirvana Laddu" to Vardhamana Mahavira, who is also the founder of modern Jainism.
Sikhs – Bandhi Chood Divas
Sikhs celebrate this day to rejoice the occasion of the release of the Sikh Guru, Guru Hargovind, from the prison of the Mughalai King, Jahangir. They decorate their temples and bursts firecrackers on this day.
Diwali Celebrations in Other Countries:
Apart from India, Diwali is grandly celebrated by Hindus, Jains, Sikhs and Buddhists living in countries like Nepal, Bhutan, Sri Lanka, Thailand, Bangladesh, Pakistan, Indonesia, Malaysia, Singapore, Australia, Mauritius, UAE, Netherlands, Canada, United Kingdom, Trinidad, Guyana, etc.
In Nepal, Diwali is celebrated for five days like in India. They call Diwali as "Thihaar" or "Swanti". Nepali's worship Goddess Lakshmi, and also do special prayers for cattle and other animals. Nepali's also perform various cultural events on this day.
Indonesians celebrate this day as "Gulungaan". They believe that the souls of their dead ancestors will come to visit their next generations on this day.
History of Fireworks:
Diwali will be incomplete without bursting firecrackers. Apart from lighting Diwas and decorating the house on this day, bursting firecrackers is the most important part. According to ancient scriptures, firecrackers are originated from China approximately 2,200 years ago. Initially they started this to frighten the animals by exploding teakwood. In later stages, they started using different chemicals like gun powder, sulphur, phosphorous and coal to make different types of firecrackers.
In older days, it was believed that fireworks helps in preventing mosquitoes and other microorganisms that evolve during the rainy season. But in recent days, few people stopped bursting fire crackers as they feel that fire crackers are destroying the environment.
Precautions to be followed During Diwali:
Store the fireworks in a closed box and away from inflammables
Read the safety precautions listed on the firecrackers box
Avoid wearing loose and heavy clothes. Make sure to wear fit and thick cotton clothes
Don't burst crackers inside the house, preferably lit them in spacious places
Never let children or toddlers to fire the crackers without the supervision of elders
Keep plenty of water and blankets ready in case of any break-out emergencies
Try to avoid firecrackers that produce loud heavy noise
Make sure you are wearing a comfortable and light footwear
Childrens Book :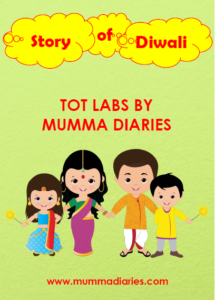 We recommend a beautiful book that introduces the Indian festival of Diwali to children. The book is a fun, non-preachy, simple-to-read rhyming storybook which talks about how five days of Diwali are celebrated.
Click the link to grab your copy – Story of Diwali.